Vancouver Interior Design & Home Styling
Is your home feeling a bit tired? Paint colors and furniture outdated? Or did you just buy a new home and you feel overwhelmed at where to start?
At Novari Collective, great interior style is our business and our passion. We believe that a house becomes a home when it's personalized. Your space should show off your tastes and personality, work with your lifestyles, and maybe make your guests a little jealous.
Whether you are looking to spruce up the old colors, furniture and decor in your home with a dramatic touch, or create the perfect neutrals, we are here to help.
We can shop for you to bring all of the elements of you home together with the perfect decor items, bedding, window treatments and furnishings. We will work together to create a space that is not only stylish and functional, but also surrounds you with a feeling of comfort, meeting all of your design needs, and making your home a place where you love to live.

We offer FULL INTERIOR DESIGN SERVICES including renovations, concept development, materials selection and project management.
Interior Design/Decorating Consultation - $450
During our consultation we will discuss the complete scope of your project, your goals and your budget as well as your tastes, lifestyle and design options to ultimately create the perfect space for you and your family to enjoy. We will discuss what is and isn't working including paint colors, furniture arrangement and art placement.
Whether it is just for advice and tips or to begin a longer term working relationship, a consultation is the place to start. Please allow 2 hours for a complete consultation. (Includes 1 hour travel time. Additional travel time billed at $50/hour)
We will follow up the Initial Consultation with a meeting at our design office (or emailed if preferred) that includes a Vision Board of the ideas discussed (see example below) and a formal Proposal regarding the Scope of Work and Design Fees associated with the project. This includes a specific budget curated just for you!
If accepted, the project is initiated and we will create a solid design direction to achieve your beautiful new space. This applies to occupied homes only, builders & new builds should contact us for commercial rates.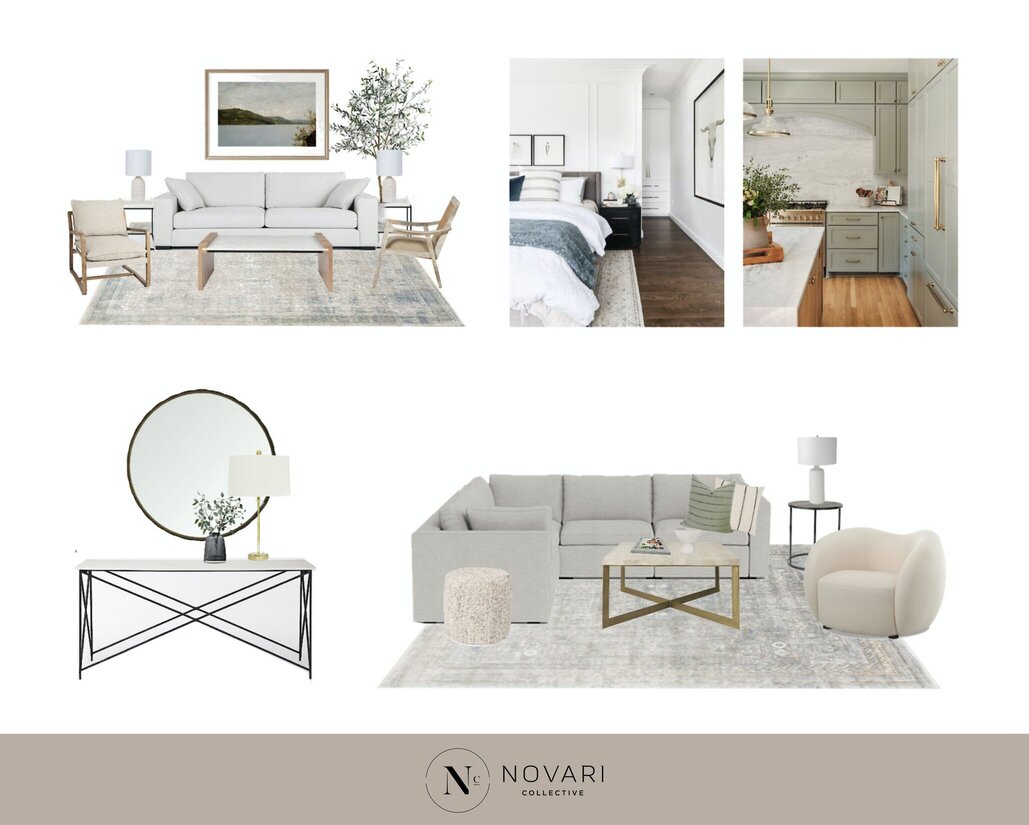 ---