Staging FAQs
1. Isn't Staging expensive?
Staging is an investment...not an expense, because it adds value to your home. Studies have shown that a staged home can sell for 6-10% more than a comparable non-staged home. Just as replacing flooring or upgrading appliances are ways to help create more value - properly executed home staging achieves the same result.
In comparison to the potential return on investment, home staging is incredibly inexpensive. If your home does not show well, the chances are likely it will be on the market longer and longevity in the market means just one thing - a reduction in price.
Since 2007, Novari Collective has staged well over 5000 homes. We are skilled at staging to appeal to your potential buyer in order to achieve a faster sale.
Our services include several package prices for occupied homes that are competitively priced depending on your needs and budget. We specialize in vacant homes and can turn any empty house into a stunning show home.
Just contact us and we would be happy to answer any questions you may have.
The investment in Staging your home will always be less than your first price reduction!
2. How much will staging my vacant home cost?
The short answer? No idea!
It is absolutely impossible for us to estimate the price of a stage without getting information about the property. Simply giving us the amount of rooms or SF is not enough.
To put it into perspective, let's pretend you are planning a wedding. You call up the wedding rental company and say, "I have 100 people coming to my wedding, how much is it going to cost?" Chances are, they will not be able to give you an answer.
Do you want paper plates or china? Are you renting decorations and food related items? Chaffing dishes and a dance floor or just the tablecloths?
See how the budget on a wedding with 100 people can vary substantially? The same applies with styling.
We may know a property is 2500sf but what don't we know? Does it have hardwood throughout (more area rugs required). Does it have a lot of built in bookshelves? (lots of accessories to fill them) Does the kitchen have a large island and separate eating area? Is the dining room large enough to require a large table, 10 chairs and server?
Staging companies that offer package deals based on the size of a home are a bit risky. Chances are, you are paying for rentals that were never required for your specific property.
We are more than happy to provide you with an estimate on what the investment you make in home styling may cost, but it is going to require - at minimum - a conversation.
We highly recommend you give us a call, we are happy to chat about your options.
3. I need my home/listing staged ASAP. What is the timeline for a stage?
First, let's find out about the property. That is going to require a site visit or detailed information provided online. We can usually schedule a consultation or site visit in 1-2 days.
Following this visit, we will provide you a proposal specific to your property within 24 hours.
Once the proposal is approved, we collect a deposit and signed contract in order to schedule delivery for the install. We can not guarantee delivery dates until a proposal has been received however on average we can book within a week (higher during busy season)
A vacant home takes an average of 2 days to carefully select the furniture and decor specific to that specific home. This is where the magic happens as our talented stylists choose every piece to make it shine. Every item gets packed up an prepared for delivery. Installation take a full day.
4. How do rental items get billed? Is there a minimum amount?
Rental items are all billed on a monthly basis and the minimum rental amount is $500
5. Why Should I Stage?
How we live in our home is very different from how we prepare them for selling. You never get a second chance to make a first impression. Potential buyers have made up their mind in the first 30 seconds whether a house is right for them. Many of them already made their decision when they pulled into your driveway.
The impression a buyer gets, when viewing a property is the single, most important factor in determining if your home sells for the price you want. Staging highlights a home's best features and architectural details, as well as minimizes flaws. In order for your home to appeal to the greatest number of potential buyers, it must be presented as clean, clutter-free, warm and inviting.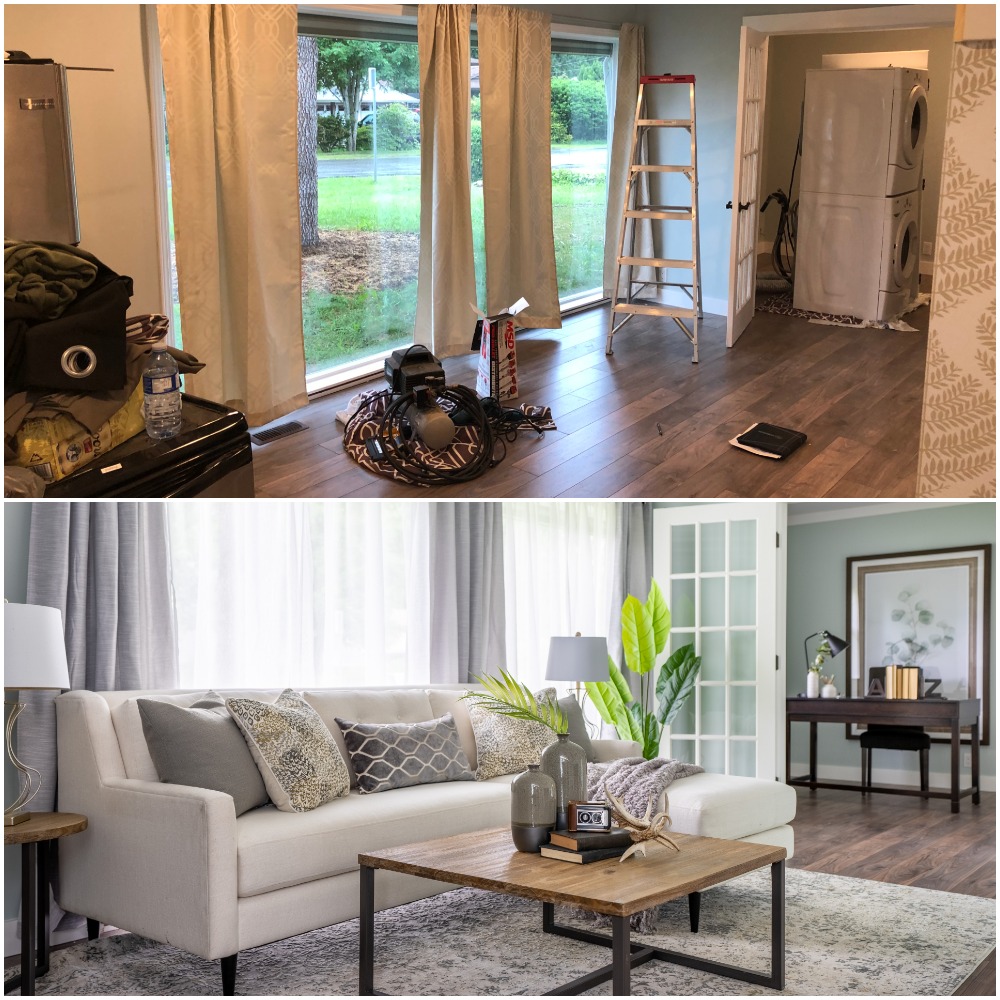 6. Why Novari Collective?
The most important thing to realize if you decide to make the investment in staging your home is that Not all Staging Companies are Created Equal.
We are:
Largest Staging Company in the Fraser Valley. We offer a full team of professional and talented consultants and assistants on staff. We are not a one man show and this is not a hobby. At Novari Collective, we have the resources and the ability to get your job done on time - and on budget.
Experienced. Since 2007 our talented and award winning team has staged thousands of homes and millions of dollars in real estate and has established Novari Collective as a leader in our industry. We typically have 30-40 vacant homes staged out at any given time and can provide an extensive portfolio of our work.
Competitive. Downtown product without the Downtown price. Our popular Realtor Rewards package starts at only $299. We specialize in vacant homes and show suites and offer the most effective and beautiful results at the most competitive price.
Resourceful. We own and warehouse more than a million dollars in high end furniture and accessories to compliment any space. Stagers that work out of a limited inventory in their garage or basement are simply not able to achieve the same selection of choice or quality of rentals and the final stage is often compromised as a result.
Professional. We are fully trained and licensed. We insure our inventory and all staff are covered by Work Safe BC. Many rental providers do not insure their inventory, meaning that you are liable for the full replacement value if it were to be damaged or stolen. Rental inventory in a vacant home can be assessed at up to $50,000 and house insurance may not cover it unless content insurance is included. Always insist that the company you chose carries proper content and liability insurance and protect yourself.
7. Why Stage a vacant home?
Tempted to leave a room or home empty? Once a new home or renovation is completed, the decision to invest additional money for staging services can be a difficult one to make.
Now is not the time to save a few dollars! Home Staging has consistently proven to add value to any real estate investment.
Potential buyers need to be able to picture themselves living in a home — and that's hard to accomplish when they're staring at empty rooms. A vacant home feels cold and impersonal. Without furniture there is no frame of reference, making it difficult for buyers to tell the scale and size of the room.
When buyers have to start questioning...they normally walk away.
We warehouse a wide variety of high end furniture and accessories to create the vital finishing touches your home needs to help ensure you sell quickly and make the profit you deserve!
At Novari Collective, we have helped hundreds of home owners, realtors and builders sell faster and for more money. Call us to arrange a site visit for your property today.
8. All homes sell eventually, why do I need to have my home Staged?
You're right. Chances are you are going to sell you house. It is a matter of when and for how much. If your house does not sell quickly, it can actually cost you money for marketing, advertising, continued mortgage payments and taxes. More importantly, the longer your house sits on the market, the more likely your asking price will be reduced.
Even if your house sells quickly in a good market, it doesn't mean it sold for the amount it would have sold for had it been professionally staged.
The best time to stage your property is before it's listed and shown. Staging it first will allow your property to make the best first impression on potential buyers and realtors. Once a home has been on the market without staging, it is much more difficult to get agents and their buyers back into the home.
Remember, professionally staged homes can sell on average for 6% or more than non-staged homes!
9. Occupied Homes - Do I need to rent furniture or accessories?
At Fine Redesign Home Staging we are skilled at using your existing furniture and accessories and maximizing their full potential.
After the consultation, we may suggest bringing in additional pieces to help give a room a more functional and stylish look. We carry a wide variety of furnishings and accessories and will customize the right items to help showcase your homes best features. Sometimes adding a few pieces such as art, lighting and a few accessories can completely transform a space.
Rental items are billed on a monthly basis and we offer discounts if any additional months are required.
We are there to help you however you decide to move ahead with the staging project and each decision is ultimately up to you.
10. Why can't home buyers look beyond the decor and visualize the potential?
Buyers only know what they see - not the way it is going to be.
When you list your home for sale it becomes a product. Just like any other product for sale, your house must look its best and stand out from similar products in the marketplace.
We know that potential buyers make up their mind 30 seconds after they walk through the front door. Today's buyer is interested in moving into a home that does not require any 'move-in repairs'. They do not want to patch or paint or remove wallpaper or replace flooring (any more than than you do!) They can't picture how it is going to look when all of your furnishings, toys, collections and personal items are gone and they can not imagine living there themselves.
Professional Staged homes sell quicker and for more money because we can help create the 'model' home feeling that will entice any buyer from discounting your home and moving on to the next.
First impressions count!
11. Does staging work on all types of properties in all price ranges?
Basically - yes! Whether your property is at the lower price point or over a million dollars, staging will help present it in the best possible way to potential buyers. Vacant or occupied properties, older homes or new construction are all candidates for home staging.
At Fine Redesign Home Staging, we are skilled at professionally preparing a home for sale and have worked on every type of home, from bachelor condos to luxury homes and everything in between. Contact us today for a no obligation staging estimate.